Celebration Lunch! Come Join Us!
Buca Di Beppo
3335 South University Drive
Davie, FL 33328
USA
If Text & Pictures Are Askew-Click Here To View This In A Browser

Why are we celebrating? You have to be willing to celebrate moments when you receive a letter like this from one of our foster youth participants....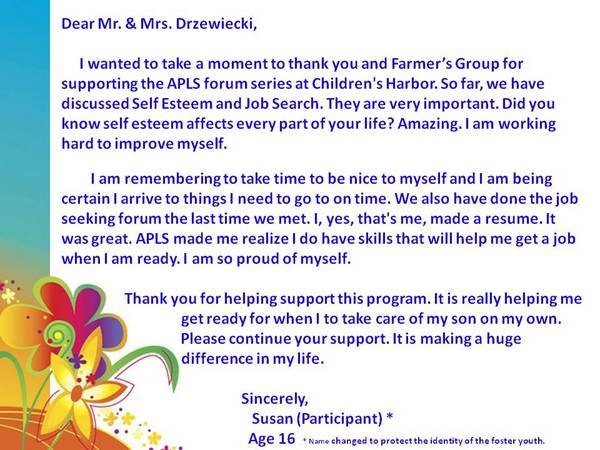 In addition to rewarding moments like this, All Purpose Lifeskills is celebrating it's second year of delivering services! Please join All Purpose Lifeskills for a fabulous lunch and fun socializing! We would like to celebrate the progress made as we strive towards our mission with you. Progress we could only make with the support and involvement of the community! Come and see the impact your involvement has and enjoy other entertaining activities!
All Purpose Lifeskills is a nonprofit organization whose mission is to engage the community through collaborative efforts to help Domestic Violence Survivors, Foster Youth, Homeless, Low Income, and Youth At Risk acquire financial literacy and life skills. We provide the knowledge, resources, and tools which will enable them to establish control over their circumstances, improve their quality of life, and launch a more secure future.
Host by Buca Di Beppo, located at 3355 S.University Dr, Davie,
July 24, 2010
12:30 p.m.- 2:00 p.m.
Minimum Requested Donation: $20 Pre-Sale or $25 At The Door
Unable To Attend? Your Support Is Still Important!

Click Here To Learn About What Is Provided In Return of Your Support:
All Purpose Lifeskills, Inc ~ 4801 South University Drive ~ Suite #254 ~ Davie ~ FL~33328
As pursuant IRS Publication 1771 the sale of this ticket is part of a fundraising campaign. The cost of goods and services is $13.50.
"A COPY OF THE OFFICIAL REGISTRATION AND FINANCIAL INFORMATION MAY BE OBTAINED FROM THE DIVISION OF CONSUMER SERVICES BY CALLING TOLL-FREE (800)435-7352 WITHIN THE STATE. REGISTRATION DOES NOT IMPLY ENDORSEMENT, APPROVAL, OR RECOMMENDATION BY THE STATE."